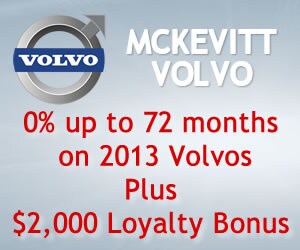 Bay Area Volvo dealership is proud to announce their 2013 model year end sale. If you are in the market to purchase or lease a Volvo, you have come to the right place. McKevitt Volvo currently is offering 0% up to 72 months on 2013 Volvos, except xc70 throughout the month of October 2013.
If you are a previous owner of a Volvo or SAAB within the last six months then you can also avail Volvo Loyalty Bonus Offer in Bay Area California With the Volvo Loyalty Bonus*, if you currently own or lease a Volvo, or have owned or leased a Volvo within the past 6 months, you get $2000 towards the purchase of a new 2013 or 2014 Volvo, or $1000 towards the lease of a new 2013 or 2014 Volvo. That means you get a brand new Volvo, and a little extra cash. This offer is also available to eligible customers who currently own or lease a Saab vehicle.
You can combine these two offers when you purchase a New Volvo at McKevitt Volvo in Bay Area and surrounding cities including San Francisco, Pleasanton, Alameda, Oakland, etc.
About McKevitt Volvo
At McKevitt Volvo, we offer new Volvo cars in Berkeley or San Leandro, along with used cars, trucks and SUVs by top manufacturers. Our sales staff will help you find that new or used car you have been searching for in the Bay Area.
For years, our staff at McKevitt Volvo has offered expert advice for those seeking a great Volvo car loan or lease. Our service doesn't stop there. Bay Area Volvo customers can come in and take advantage of our knowledgeable Volvo car repair technicians and a fully-stocked inventory of Volvo car parts.
You can reach Mckevitt Volvo any time by filling out our contact form, by calling us at (888) 771-0363 , or simply visiting our Berkeley or San Leandro Volvo dealership at 467 Marina Blvd, San Leandro or 2700 Shattuck Ave, Berkeley.