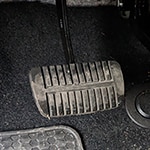 Your car relies on the brake pedal to operate safely and reliably as you spend time driving to work each day or dropping off your kids at school in San Leandro, CA. It's important to know when the part is damaged or has wear that is present, which requires repairs performed by our service team here at McKevitt Volvo Cars.
Check for burning smells that develop due to the parts rubbing together, which leads to a lot of premature wear. Your car may even start to veer to the right of the road as you slow down the car and try to drive straight.
It's also necessary to listen for any unusual sounds that start to develop. It's common for broken or worn brake pedals to make squealing noises the longer they're in use. You may even notice the pedal doesn't feel firm and feels a lot more squishy than it did in the past.